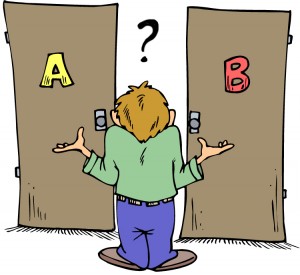 When one files for bankruptcy, a petition must be created. That petition is made up of several different sections called, "Schedules". Each of these sections deals only with one specific issue, for instance, Schedule A deals with real estate, Schedule B with personal property, and so on. It is generally accepted that these schedules can be amended at any time, however a recent case out of the Middle District of Florida has limited this freedom somewhat.
Although every schedule is important, the schedule most debtors are interested in is Schedule C. Schedule C is where the debtor lists which property (s)he wishes to keep a exempt from collection by creditors. The rules allowing for property to be kept are called "exemptions" and are outlined by either state or federal statutes.
In Florida the use of one such exemption may forbid the use of another. As such, debtors can choose only door A or door B, but not both. Since there are so many rules in the bankruptcy code and because those rules are not always clear, it is often the case that people filing bankruptcy without a lawyer (pro se) mistakenly choose incompatible exemptions. This forces the Trustee to file an Objection to Claim of Exemptions, which requires a hearing for the judge to determine whether or not the objection is valid. If the objection is valid and the exemptions are denied, the trustee can then file a motion for turnover. The motion for turnover is the trustee's way of asking the judge to force the debtor to surrender their rights in the property to the trustee. This is where the turning point is. Up to and until the judge orders turnover, the debtor can amend their Schedule C list of exemptions and change the amount and type of property they wish to keep, but once the judge signs an order requiring the debtor to surrender their rights, the debtor can no longer amend.
Thus it is vital to make sure the claim of exemptions is correct when filed and that no incompatible exemptions are used. If you are considering filing for bankruptcy and want to ensure that it's done correctly, contact a Jacksonville Bankruptcy Lawyer or call us at (904) 685-1200 for a free consultation.