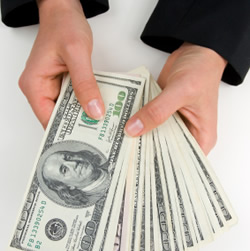 Jacksonville has plenty of options when it comes to payday loans, be it "Check 'n Go" or "Advance America", you know they're all over town. A relatively new study out of Vanderbilt University and the University of Pennsylvania suggests that payday loans may actually cause bankruptcies.
Paige Marta Skiba and Jeremy Tobacman both have doctorates from esteemed establishments (UC Berkeley and Harvard respectively) and a 57 page collaborative work titled, "Do Payday Loans Cause Bankruptcy?" attempts to prove that these loans, despite only being for amounts around $300, do in fact cause an increased probability of filing bankruptcy.
The statistics they give are quite telling, for instance, the interest rates given on payday loans are often quoted as being small because they're based on a few days or weeks, however when you amortize a 18% loan over two weeks out to a per annum (yearly) basis, the total interest percentage is actually 468%. It's these high interest loans that Skiba and Tobacman say force some people to file for bankruptcy.
If you find yourself habitually taking out "Payday loans" and can't seem to get out of the hole, contact a Jacksonville Bankruptcy Attorney or call us at (904) 685-1200 for a free consultation.