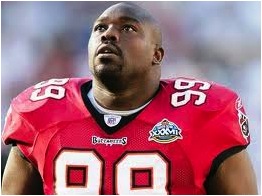 According to the Washington Post, Warren Sapp, former NFL star, has filed for bankruptcy in a Florida federal bankruptcy court. In his Chapter 7 filing he claimed that he owed nearly $7 million to creditors and for child support and alimony. In his filing he listed his assets as his collection of Jordan athletic shoes, watch, and ring, but it did not include his Super Bowl ring and his national championship ring. He claimed that he lost both rings.
Sapp's current income is listed as being nearly $116,000.00. Included in that number is a $45,000 final payment from Showtime, a $48,000 appearance fee, and a nearly $19,000 advanced from a book. Sapp is currently employed as an analyst at the NFL Network. His contract is set to end in August and it is unclear whether he will renew that contract.
Warren Sapp is best known for his time with the Tampa Bay Buccaneers and with the Oakland Raiders. He spent 13 years in the NFL and had a sizeable income. Somehow his income could not compensate for his debts and now he is forced to file for bankruptcy.
Sapp is not the first athlete to have significant financial troubles. Several professional athletes and movie stars have been plagued with bad money management and as a result have had to declare bankruptcy, sometimes more than once. Even the very rich and quickly become very broke if they do not take the time to manage their money correctly.
Filing for bankruptcy can be beneficial if there is no way that you can pay your debts back. However, it should be a last resort. If you find yourself needing the services of an attorney, please call us at the Law Office of David M. Goldman. As professionals who are experienced in the bankruptcy arena, our attorney will provide you with the best advice regarding your financial options.
Source: "Former NFL star Warren Sapp file for bankruptcy in South Florida, owes more than $6.7 million," published at the WashingtonPost.com.
See Our Related Blog Posts:
Bankruptcy Filings Down, But Distressed Sales Make Up 43% Of The Market
Debt Forgiveness Income