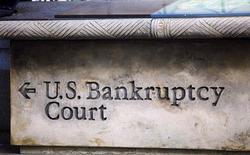 In recent weeks bankruptcy courts and the associated United States Trustee Program have begun to increase the scrutiny with which they are looking at requests to proceed with foreclosures and requiring the foreclosing lender to prove that they are the proper party to foreclose on the property. Bankruptcy courts in New Jersey and Georgia have denied to remove the automatic foreclosure stays that are put in place when a court confirms a debtor's bankruptcy repayment plan because banks have been unable to satisfactorily prove they were the parties that actually owned the mortgages.
In order for the lenders to foreclose on a home once the homeowner has an approved repayment plan, the lender must file a motion to remove to stay and prove they are entitled to foreclose. Spokeswoman for the U.S. Trustee Program Jane Limprecht verified the Program's increased scrutiny by stating it "is engaged in an enhanced review of mortgage servicer filings in bankruptcy cases to help ensure the accuracy of the claim to repayment."
This is a positive step for those homeowners facing a Florida Foreclosure Lawsuit and are considering bankruptcy. Contact a Jacksonville Bankruptcy Lawyer or a Jacksonville Foreclosure Lawyer today to explore your foreclosure alternative options.