With COVID-19 destroying the economy, scores of retailers have filed bankruptcy in order to get relief from their creditors. Last last year, Congress  enacted a new subchapter of the bankruptcy code to help smaller businesses get relief at a lower cost and more quickly. Corporations of all sizes have used bankruptcy as a survival tool for generations. They did not give it a second thought. There is not stigma when a company does this in order to survive. (Local grocer Winn-Dixie, and many major airlines,  are still around because of their bankruptcy filings.)
However, for individuals, the "stigma" of having gone bankrupt has stuck around a little longer. This seems to be changing now that people realize that bankruptcy is a tool to survive economic downturns.  I just got off the phone with a potential client who called to say that a credit union had sued her. She called asking what she could do about it. She started her call by saying, "I do not want to file bankruptcy." I asked her why not. She said that she would lose all of her property, ruin her credit, ruin her reputation and lose her job if she filed bankruptcy. I spent 45 minutes with her on the phone. She retained me to handled her Chapter 7 bankruptcy case. I dispelled the myths of bankruptcy and I made her laugh–a lot–which she said took away some of her stress from the collection calls, letters and lawsuit.
MYTH NO. 1:  I WILL LOSE MY PROPERTY IF I GO BANKRUPT
Bankruptcy is federal law. Article I of the U.S. Constitution says that Congress has the power to enact uniform laws across the states. However, it does not have to. It can allow states to opt out of certain areas of bankruptcy law. One such area is the law of exemptions. The law of exemptions is set forth in the federal bankruptcy code, but also in individual state laws as well (some states, like Florida, chose to opt-out of the federal exemption scheme, so you must follow state law for most exemptions). The property that you can excempt in a bankruptcy case filed in Florida are:
Homestead: your home is fully exempt–no matter its value–unless you paid for it in full within the past 1,215 days (then the exemption is limited to about $160,00 of equity)
Automobile: $1,000 of equity is exempt
Personal property: $1,000 is exempt (intangible and tangible property are included, so bank accounts, clothes, cellphones, jewelry, etc.); can be as high as $5,000 if you don't own a home
Retirement accounts: up to $1,000,000 are exempt
Wages, if you are "head of family"
MYTH NO. 2: I WILL RUIN MY CREDIT IF I FILE BANKRUPTCY
If you are contemplating bankruptcy, your credit score is probably pretty low already. Most people file for bankruptcy when they have been sued and have a public record on their credit report, or after they ar ein default on many bills. Bankruptcy might drop it 500 or below, but it should bounce back to over 600 within a year after you file a case. Bankruptcy will give you a fresh start and allow you to start rebuilding your credit.
MYTH NO. 3: I WILL RUIN MY REPUTATION IF I FILE BANKRUPTCY
Bankruptcy filing information is public record and a Chapter 7 case will stay on your credit report for 10 years. It will most likely only appear in local legal newspapers, though some general newspapers publish lists of new bankruptcy cases as well.  After the 2005 boom in bankruptcy filings (before it became harder to file for Chapter 7), and the great recession of 2008, so many people from all walks of life filed bankruptcy, that it was not seen as much of a "scarlet letter" of shame as it had been in the past. Individuals are realizing that bankruptcy is a financial tool that will improve their lives.
One of my former clients, who grew up in the Great Depression of the 1930s, thought that bankruptcy was a bad thing–something that a moral person did not do. Decades letter, after her husband died, debt collectors harassed her so much that she had to see a cardiologist. At that point, she decided that bankruptcy was her best option. She decided that since the big banks on Wall Street and other major corporations got a bailout out that it was her turn.  Newsweek did a feature story on her in the fall of 2008.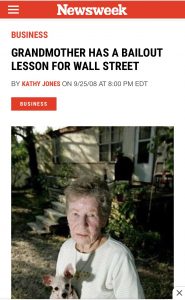 This lady overcame her lifelong opposition to filing bankruptcy and it brought her peace of mind.  Other benefits of filing bankruptcy are:
Stops Wages Garnishments
Stops Foreclosures
Stops Debt Collection Lawsuits
Stops Repossession of Automobiles
Stops Harassing Collection Calls
MYTH NO. 4: I WILL LOSE MY JOB IF I FILE BANKRUPTCY
Filing bankruptcy generally does not affect one's job. There are some positions in the securities industry which a bankruptcy filing could affect, as well as some military clearances which could be affected.
To see how bankruptcy could benefit you, contact the Law Office of David M. Goldman, PLLC today for a free initial bankruptcy consultation. Our office has a bankruptcy lawyer who has been helping debtors discharge their debts and protect their assets in bankruptcy court for nearly 28 years.  A Jacksonville Bankruptcy Lawyer can help you decide if filing bankruptcy is best for your future.