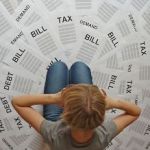 When thinking about filing a Chapter 7 Bankruptcy in Jacksonville, Florida, not knowing or understanding the Jacksonville Bankruptcy Process can make filing bankruptcy seem very overwhelming and scary. Not only are Jacksonville Bankruptcy Attorneys asked about what to expect after filing bankruptcy; they are also asked what clients should and should not do before filing for bankruptcy. In order to help you better understand the Jacksonville Bankruptcy Process, please see below for a general timeline of events you should be familiar with.
6 to 8 Years Before Filing a Jacksonville Chapter 7 Bankruptcy:
If you filed a Chapter 7 Bankruptcy before AND received a discharge of your debts, then you will not be eligible to file a new Chapter 7 Bankruptcy before eight years after you filed your previous Chapter 7 Bankruptcy.
If you filed a Chapter 13 Bankruptcy AND received a discharge, you might be able to file a Chapter 7 Bankruptcy after six years if you paid a minimum of 70% of your unsecured claims.
1 Year Before Filing:
Your Bankruptcy Trustee can look back as far as one year for debts paid back to relatives or close business partners. What this means is that a payment made to a relative or business partner could be construed as a preferential payment over your other creditors. If this should happen, the Court could take the payment back from them in order to distribute it evenly to all of your other creditors.
This same concept holds true if you have tried to hide your assets from your creditors by transferring, destroying or hiding any of your property within one year of filing Bankruptcy. In this situation, the Trustee might deny a Chapter 7 Bankruptcy discharge and/or recover the property.
However, your Jacksonville Bankruptcy Attorney may prefer that you wait two years to ensure there are no issues when you do file.
90 Days Before Filing:
You must have residence status in the state in which you intend to file your bankruptcy.
If you have not lived in your present state for a minimum of 90 days, then you must file your bankruptcy in the state you have lived or where your principal assets were located for the majority of the 180 days before filing your bankruptcy.
Also, do not pay back any of your creditors and do not incur new debts of $500.00 or more for unnecessary things such as luxury goods.
Once your Jacksonville Bankruptcy has been filed:
The Automatic Stay is immediately put into place. This means your creditors can no longer try to collect a debt from you or harass you with telephone calls.
The Court will then draft a Notice of Commencement, which it will mail to your creditors to give your creditors notice that you have filed bankruptcy.
The Notice of Commencement will also tell you when your Meeting of Creditors is scheduled, the deadline in which your creditor's much file claims, and who your Trustee will be.
30 Days After Filing your Jacksonville Bankruptcy:
You must tell the Court what secured assets you intend to keep or reaffirm by filing a Statement of Intentions with the Court. The Statement of Intentions will also tell the Court which secured assets you wish to turn over to your Bankruptcy Estate.
Approximately 3 to 6 Weeks After Your Jacksonville Bankruptcy is Filed:
Your Meeting of Creditors is held. You must provide your Trustee all financial documentation requested at least seven days before your Meeting of Creditors is held.
30 Days After the Meeting of Creditors:
Your Jacksonville Bankruptcy Trustee and your creditors must file any objections they have within 30 days after your Meeting of Creditors has been held.
90 Days After the Meeting of Your Creditors is held:
Your creditors must file their Proof of Claim with the Court. The Proof of Claim tells the Court how much you owe them. A creditor will only receive payment from your Bankruptcy Estate if they have filed a Proof of Claim.
If you are thinking about filing a Jacksonville Chapter 7 Bankruptcy, you most likely still have many more questions about the Jacksonville Bankruptcy Process. Contact the Law Office of David M. Goldman, PLLC at (904) 685-1200 today for a free initial consultation. The experienced attorneys at the Law Office of David M. Goldman, PLLC can help you feel your best about the difficult decision of filing for a bankruptcy.