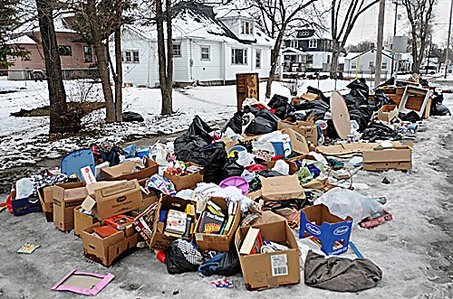 If somebody broke into my home while I was gone and took all of my personal property, I would want to be compensated for my loss, and I should be, right?
Imagine that like many in Florida today, you live in a home that is underwater on it's mortgage. You consult an attorney and because you fear a deficiency judgment or a 1099 for debt forgiveness income, either of which could result from a foreclosure. That attorney suggests that you file bankruptcy, which you do. You indicate in the bankruptcy petition that you want to surrender the home to the creditor. You are also required to provide a list of personal property to the court, but because you know you're only allowed to keep a certain amount of property in a bankruptcy, you decide to omit some valuable items. You rent a side apartment, but don't completely move out of the house. One day you return to the house to pick up some items and find it completely bare. You call your attorney and find out that the mortgage company violated the bankruptcy rules by entering your home and that you can sue them to recover the value of the lost property. You quickly create a list for your attorney of all the property that is missing and the attorney stops you. You did not list all of these items on your petition. This brings about at least two problems: first, you lied to the court under oath. This is perjury and your attorney may have to withdraw from representation because you used their services to perpetrate a fraud. Second, when you filed your petition you swore that you provided a complete list of your personal property and at the 341 hearing, you were sworn in and asked if the list was complete. If you now sue the creditor for taking your property, you're going to have to explain to the court why you failed to disclose property on your schedules and show that the property did, in fact, exist in the first place.
Listing all of your assets is a requirement of the Title 11 bankruptcy code. This is in the code because you're only allowed to keep a limited amount of non-exempt property in a bankruptcy. Situations like the one above turn the law on it's head, but really do stress the importance of honestly and accuracy on bankruptcy schedules. If you're considering a bankruptcy, it is important to get legal advice. Contact a Jacksonville Bankruptcy Attorney or call us at (904) 685-1200 for a free consultation.