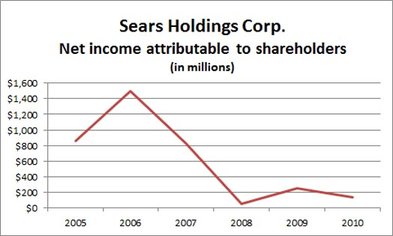 With shares dropping 50% from last year, it comes as no surprise that Sears Holdings Corp., which owns both Sears, Roebuck & Co. and Kmart Corp., is closing stores more than 100 stores. The graph above shows a 84% decrease in income for the company since it first acquired Kmart.
The fall is an interesting development coming on the heels of Sear's CEO Edward Lampert pay out of a record $1 billion dollar income in 2004.
It is impossible to tell what the future holds for these companies, but I speculate that they will eventually file a Chapter 11 (Kmart did a few years ago) or that the company will be divided into smaller parts, Lampert selling off the less profitable portions and attempting to recover on the more profitable ones. Unfortunately, the brunt of the fall will be felt by the employees, who will lose their jobs and may be forced into bankruptcy themselves. Lampert, with a one year income of over a billion dollars, probably won't be so unfortunate.