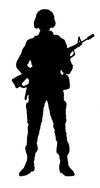 Recently, the U.S. House of Representatives voted to pass the The National Guard and Reservist Debt Relief Act of 2011 (H.R.2192). This bill is an extension of a 2008 version of the bill with the same name. The currently existing law helps soldiers qualify for Chapter 7 bankruptcy by allowing those on active duty to bypass the means test.
Soldiers would more easily qualify for a Chapter 7, because they can now bypass the means test. The means test requires the court to look at the debtor's income and compare it to an average income for the same family size. If the debtor's income is above average, then the filing a Chapter 7 is presumed a fraudulent abuse of the system as the debtor makes too much money to not pay any debts back. The debtor presumed fraudulent can then either file a Chapter 13 bankruptcy or pursue a non-bankruptcy option. The National Guard and Reservist Debt Relief Act of 2008 dictates that those in active duty for at least 90 days do not have to overcome any fraud analysis. They automatically qualify for a Chapter 7 regardless of how high their income is.
The justification behind the bill is that oftentimes these soldiers are called upon on short notice, requiring them to leave higher paying jobs to travel to remote locales to defend America. This may lead to soldiers having to maintain more than one household. Again, to qualify under this bill, reserve members must have been on active duty for 90 days or more since September 11, 2011. You can also qualify during the 540 days following activation.
If you are a military service member and would like to find out more about filing for bankruptcy, contact a Jacksonville Bankruptcy Attorney today for a bankruptcy consultation.