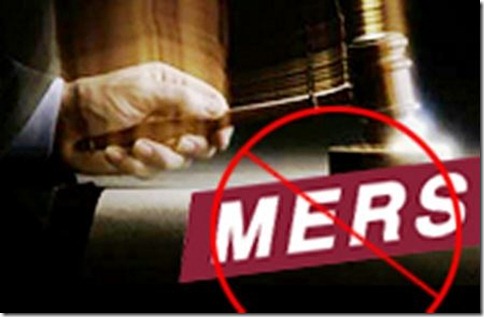 When a bank wants to foreclose or repossess property from someone who has filed bankruptcy protection, that bank must obtain permission from the court for relief from the automatic stay provided by 11 USC §362. If the Judge enters an order granting that permission, the lender can then return to the county court and resume collection activities.
Select Portfolio Servicing (SPS) sought to foreclose on a mortgage held in trust by First Franklin Mortgage Loan Trust which encumbered a property possessed by a debtor in Chapter 7. SPS filed a motion for relief from automatic stay and the debtor objected on the grounds that the Mortgage Electronic Registration System (MERS) could not establish that it held an enforceable right against the property as MERS had no valid and enforceable interest in the mortgage.
States have various recording requirements for secured loans. One of the most common terms is "Perfection". A lien must be "Perfected" for it to attach to the subject property. "Perfection" is synonymous with "Recorded with the County (or state)". If a lien is not properly recorded, the lien does not attach to the property and is as unsecured as a credit card, i.e. you don't pay your mortgage and the lender can't take the homestead.
For years banks did the job of recording their liens and any subsequent assignments of their interest. However, by 1995 banks were selling mortgage notes multiple times and a MERS, a publicly traded company, came along and and offered banks a new solution to the assignment recording issue: Record the initial lien properly, then assign the interest to MERS. MERS would then buy and sell the mortgage notes 'in house' without recording those assignments and would nominate servicers to collect on unpaid mortgage notes. This method bypassed the debtor protection requirements set up by states and made things much easier for lenders.
When the New York court considered the issue, it blatantly stated, "This Court does not accept the argument that because MERS may be involved with 50% of all residential mortgages in the country, that is reason enough for this Court to turn a blind eye to the fact that this process does not comply with the law." To give permission to foreclose, the court requires that the entity requesting permission be the holder of the note and mortgage. The court in this case found that MERS, nor U.S. Bank had demonstrated no evidence that it either a valid holder of the note or mortgage nor had they validly recorded transfers with the state or county as required to remain secured. The court finished their opinion stating, "…in all future cases which involve MERS, the moving party must show that it validly holds both the mortgage and the underlying note in order to prove standing before this Court." This means that any MERS loan that attempts to obtain relief from automatic stay in New York will have to show ownership of both note and mortgage to have the right to ask for permission to foreclose.
The implications beyond this single bankruptcy case are huge. If MERS is found to be an invalid method of lien assignment and notes and mortgages have been lost the basis of perfection for hundreds of thousands of loans would be absent and all of those mortgage liens would become unsecured debts. If this were to occur, Florida borrowers could file Chapter 7 bankruptcy, discharge the unsecured mortgages and keep their homes. The impact on the banks would be severe as well as they would lose millions of dollars of home backed loans.
If you have questions about MERS or secured assets in bankruptcy, contact a Jacksonville Bankruptcy Attorney or call us at (904) 685-1200 for a free consultation.