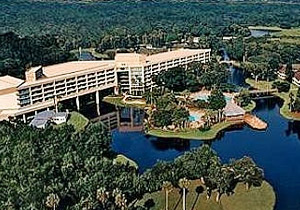 Ponte Vedra's Sawgrass Marriott played host to this year's Jacksonville Bankruptcy Bar Association (JBBA) seminar. The new Chief Judge Karen Jennemann was in attendance as well as the former Chief Judge, Paul M. Glenn.
As usual the event was both educational and interesting and the accommodations were elegant. An interesting discovery for me was to find that the Resort had been lost to Goldman Sachs Group, Inc., as part of RQB Resort's Chapter 11 bankruptcy.
Apparently, the reorganization plan does not require Goldman Sachs to keep the hotel under the, "Marriott" name. This could mean that the 348 room hotel could change names come November when formal control is relinquished. RQB showed that the recession had caused a 25% drop in business for the resort in 2009, bringing about the bankruptcy. The value of the resort is currently $132 million dollars.