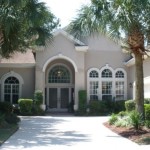 When filing bankruptcy, whether it be a Chapter 7 or a Chapter 13, and you own your home or some other piece of real property that has Homeowner Association (HOA) Fees, it is very important to understand what will happen to your past due HOA fees and your HOA fees that will become due after filing bankruptcy. Understanding what your responsibility will be regarding your HOA fees before and after filing bankruptcy, can help you determine when and if you want to file.
If you are behind on your HOA fees and choose to surrender your real property when you file bankruptcy, all HOA fees that became due before you file will be discharged through your bankruptcy. HOWEVER, all HOA fees that become due beginning the day after you file are not dischargeable. This means that you are no longer liable for the HOA fees you owed before the day you file bankruptcy, but you are responsible for all HOA fees that became due after you file.
This situation has been addressed by the 11 U.S.C. § 523(a)(16) of the United States Bankruptcy Code, which states "for a fee or assessment that becomes due and payable after the order for relief to a membership association with respect to the debtor's interest in a unit that has condominium ownership, in a share of a cooperative corporation, or a lot in a homeowners association, for as long as the debtor or the trustee has a legal, equitable, or possessory ownership interest in such unit, such corporation, or such lot, but nothing in this paragraph shall except from discharge the debt of a debtor for a membership association fee or assessment for a period arising before entry of the order for relief in a pending or subsequent bankruptcy case."
The biggest issue attorneys see time and time again, is that a homeowner will surrender a home through bankruptcy, move out, assume they are no longer responsible for any HOA dues, and then receive a letter from the HOA some time later stating they owe a very large sum for post-filing HOA fees, late fees and attorney fees. Continuing to live in the home and paying the HOA fees as they become due until the house is properly foreclosed on by the mortgage holder or other appropriate party can easily prevent this. A second option, if you wish to move out of the home sooner and instead of waiting for foreclosure, is to sell the house through a short sale.
If you wish to keep your home after filing bankruptcy instead of surrendering it, you may still need to pay the HOA fees you owed prior to filing bankruptcy. This is because HOA's have the ability to place liens on your home and then enforce them through foreclosure. This means that even if you own your home free and clear or are current on your mortgage payments, you may still lose your home through a HOA foreclosure if your HOA fees are not paid.
If you are thinking about filing bankruptcy and are behind on your HOA payments, it is very important to speak with an attorney before filing. An experienced bankruptcy attorney can help you fully understand the consequences filing bankruptcy may have on your HOA fees. You can call the Law Office of David M. Goldman, PLLC for a free initial consultation by calling (904) 685-1200.