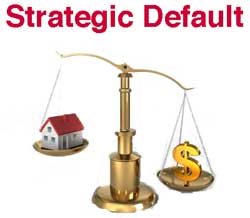 As the numbers of Americans considering strategic defaults rises, more and more mortgage brokers are fielding calls asking about the possibility for "buy and bail" purchase. A "buy and bail" purchase is where a homeowner is considering a strategic default on their home, often due to an extreme drop in their home's value, purchases another home before they default on their current home. By completing a "buy and bail" purchase, a homeowner is able to get into another home, often at a steep discount due to low home values, before their credit rating is ruined because of the default.
Mortgage brokers are seeing an increase in "buy and bail" purchases even though Fannie Mae and Freddie Mac have attempted to set up standards to prevent it. The borrowers most likely to take advantage of buy and bail purchases are those with high credit scores and who have jumbo loans that fall outside of Fannie and Freddie funding limits. Many mortgage brokers ask about the potential for "buy and bail" purchases during the application process and if homeowners lie on their application, a "buy and bail" purchase constitutes fraud. While "buy and bail" purchases are becoming more popular, the FBI and other federal agencies are investigating allegations of "buy and bail" purchases aggressively.
If you are facing a Florida Foreclosure Lawsuit, there are foreclosure alternative options that may be available to you. Contact a Florida Foreclosure Lawyer today to review your case and options.