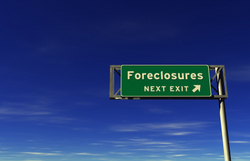 New data from foreclosure tracking firm RealtyTrac reveals that foreclosure activity rose in 133 of the 206 largest U.S. metro areas in the third quarter 2010, including 11 of the 20 largest metro markets. That means that foreclosure activity rose an astonishing 65% over the July to August time period. The four most foreclosure plagued states; Florida, California, Nevada and Arizona, claimed 19 of the 20 metro's with the most foreclosure activity with Boise City-Nampa, Idaho coming in at number 14.
The U.S. metro area with the largest percentage increase in foreclosure activity was Seatle-Tacoma-Bellevue, Washington, an alarming 71% increase in foreclosure activity, followed by Chicago-Naperville-Joliet, Illinois, a 35% increase, and Houston-Sugar Land-Baytown, Texas with 26% increase. James J. Saccacio, CEO of RealtyTrac, stated that until the problems of unemployment, underemployment, negative equity and toxic loans are solved "these historically high foreclosure rates will continue." Cape Coral-Fort Meyers, Florida holds the distinction of having the nations second highest foreclosure rate, with one in every 35 homes receiving a foreclosure complaint in the third quarter alone.
If you are facing a Florida Foreclosure Lawsuit contact a Jacksonville Bankruptcy Lawyer who is familiar with Foreclosure Defense law to discuss your situation and circumstances to see what defenses and options you have with your case.