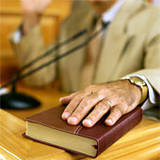 When filing for bankruptcy, it is very important to be very honest and disclose everything. If you do not, you risk having your bankruptcy denied, discharge revoked or even prison time in the worst case scenario. When you sign your bankruptcy documents, you are doing so swearing that they are true under penalty of perjury. If the trustee finds out that something you have in your schedules is incomplete or untrue, this will raise a red flag and the trustee will scrutinize your bankruptcy schedules even more.
A common way that people fail to disclose everything in bankruptcy is trying to hide assets. Debtors might leave off a gold watch or a private bank account. This is a big mistake. When filing for bankruptcy, you must list all of your assets. Even if you think an asset is inconsequential or minute, you should list it. It is better to have overkill than to raise a red flag.
Another thing debtors sometimes fail to list is creditors that happen to be friends or relatives. Or maybe the debtor does not want a specific creditor to know that they have filed for bankruptcy, so they do not want to list that creditor. You should not do this. You need to list all creditors to whom you currently owe any kind of debt on your bankruptcy papers. The trustee wants to make sure that all of your creditors get their fair share of your estate. No matter your intentions, make sure to list every creditor. If you do not and the trustee finds out, this will raise a red flag.