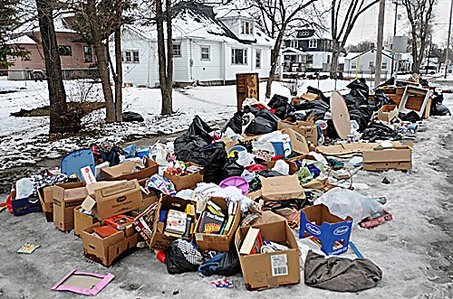 #bankruptcy
The Jacksonville, Florida court determined in 100 B.R. 579.pdf that the automatic stay protections extend to protect against not just evictions but damage resulting from those that are done wrongfully.
The debtor had entered a lease agreement with a residential property. Days prior to filing a bankruptcy case the debtor was served with an eviction notice. Despite receiving notice of the bankruptcy filing, the landlord forced her way into the Debtor's home and placed the debtor's belongings on the street. Before the debtor was able to discover the eviction, her personal possessions were stolen.
An action for violation of automatic stay is brought under 11 USC § 362. This provision gives debtors the power to sue their creditors if those creditors attempt to collect against them without court permission while they're in bankruptcy. An eviction is an attempt to collect a debt. In this case, because the theft of the debtor's personal property was a result of the creditor's conduct in the wrongful eviction, the debtor was able to recover the $11,311.06 value of her stolen property.
I am currently engaged in similar litigation regarding a wrongfully repossessed boat. The company financing the boat repossessed it without court permission. While repossessing it, the creditor's repossession agents stole a variety of personal items from inside the boat and tore off and removed the bimini cover. This is clearly a violation of the automatic stay and though the company returned the vessel, it is still unclear what recovery my client will obtain.
If you're looking for an attorney who is willing to sue a creditor if they violate your rights, contact a Neptune Beach Bankruptcy Attorney or call us at (904) 685-1200 for a free consultation.